Eminent Domain Stuff
New London Update (2/24/06)
Bad NLDC!
Coverage of the Rally at New London's City Hall (w/ pics)
Monday, July 26, 2004
WWII Memorial
I went down to DC this weekend to see the WWII Memorial with some of my family including my Grandfather, who drove a tank in 778th. I cannot say enough about the majesity of this Monument. It is a fitting tribute to the Men who fought and died in Europe, the Pacific, North Africa and elsewhere so that we, and the rest of the World, might live free from the clutches of Hitler and his partners in conquest and evil.
To the Men of WWII: Thank You.
The Atlantic Pillars

View towards the Reflecting Pool

The Pacific Pillars.

WWII Memorial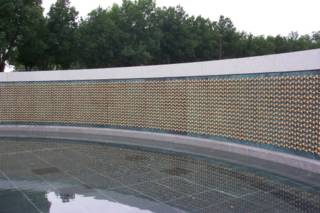 The Field of Stars. 4,000, one for every 100 Americans killed in WWII.

We must never forget.

|